---
---
🚚 FREE SHIPPING and CASH ON DELIVERY in the PHILIPPINES 🇵🇭
🔥

LIMITED SUPPLIES

🔥
PHP 949 (SET of 2) 
PHP 949 
(Set of 2)
YOU SAVE almost PHP 949!
Special Promo Today ONLY: 1,245 (SET of 2) - FREE SHIPPING and Cash on Delivery everywhere in the PHILIPPINES.
Forever Match is great for outdoors. Hikers, Survivalist, Military, Law Enforcement, Average everyday persons, and even Campers, love this lighter. Easy to use and super compact. Can keep it on your key ring, or backpack, works great with Mollie system, or attach to anything that a key chain will. Simply put a few drops of lighter fluid in the opening and put match rod back in well. This perma-match is rated for more than 20,000 match equivalent. Contains a fuel, Ferro rod and wick in one all-inclusive fire starting kit that fits conveniently in your pocket. Strikes hot, burns hot: Ferro rod strikes at over 3000 degrees and flame burns at over 600 degrees Fahrenheit. Each Forever Match is capable of more than 20,000 long burning strikes. Will start a fire in the rain, sleet or snow. If you can strike a match you can start a fire (and this one won\u2019t burn your fingertips). In a survival situation a fire is life, this tool will make sure that you can start a fire whenever, wherever you need it. Built in O-Ring keeps fuel from evaporating indefinitely.
Directions for Use:
Fill container with lighter fluid, no more than 2/3
Insert rod and screw tight
Unscrew rod striker and take out the rod
Strike the rod against the side of the container
Blow out fire and screw rod back inside of the container
Repeat the process for endless amounts of fire
Specifications:
Waterproof.
Material is Stainless Steel and durable, ABS.
Size: 1.6″ Width 2.8″, Thickness .1/2″.
Lightweight.
Replaceable Wick.
Stainless Steel Striking Rod.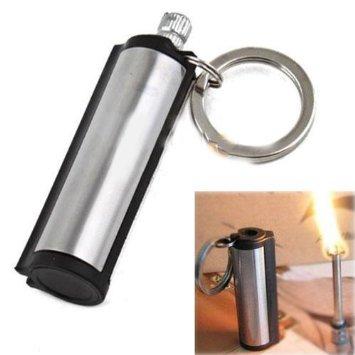 ---